DOS AU MUR (Back to the Wall)
Conception, scénographie et chorégraphie : Camille Regneault « Kami » et Julien Saint Maximin »Bee D »
Danseurs : Camille Regneault « Kami » et Julien Saint Maximin « Bee D »
Composition musicale : Julien Lepreux
Création lumière : Frédéric Stoll
Constructeur décor : Jipanco
DOS AU MUR is a creation where Hip Hop dance mixes aesthetic and body performance in order to raise objective and intelligible sociological questions. Through the expression "DOS AU MUR", the artists approach a process in which humans, and the society that they form, are in constant correlation.
DOS AU MUR sends us back to the idea that humans are building their surrounding world, which in return will influence them. On a second level, the wall, which is the central element of the creation, symbolizes the duality that humans create naturally as a unique source of reflection and landmark. Therefore, the wall is first and foremost the materialization of our behavior, stretched between psychological border and building of constant antagonisms. A wall implies beginnings and ends. It rises, steep, insurmountable, paradoxical.
A wall protects, a wall conceals, separates, shuts away. It is forcing us to make decisions, either assigning us to stay in the spot that we would like to overcome, or inviting us to move elsewhere. On the other side, maybe freedom. A wall reveals fears and desires. A failure to pass or an opening to a journey, a side leaning toward the past, the other toward the future, the temptation to break through the walls is also mingled with the apprehension of what will be found behind.

The wall separates, however, if we pay attention, we hear sounds, voices:
"Is there someone on the other side?"
Dos au mur exists in two versions :
a 25 minute version, created in February 2018 (Suresnes Cité Danse Festival)

a 55 minute version, created in March 2019 (Théâtre de La Manufacture in Saint Quentin)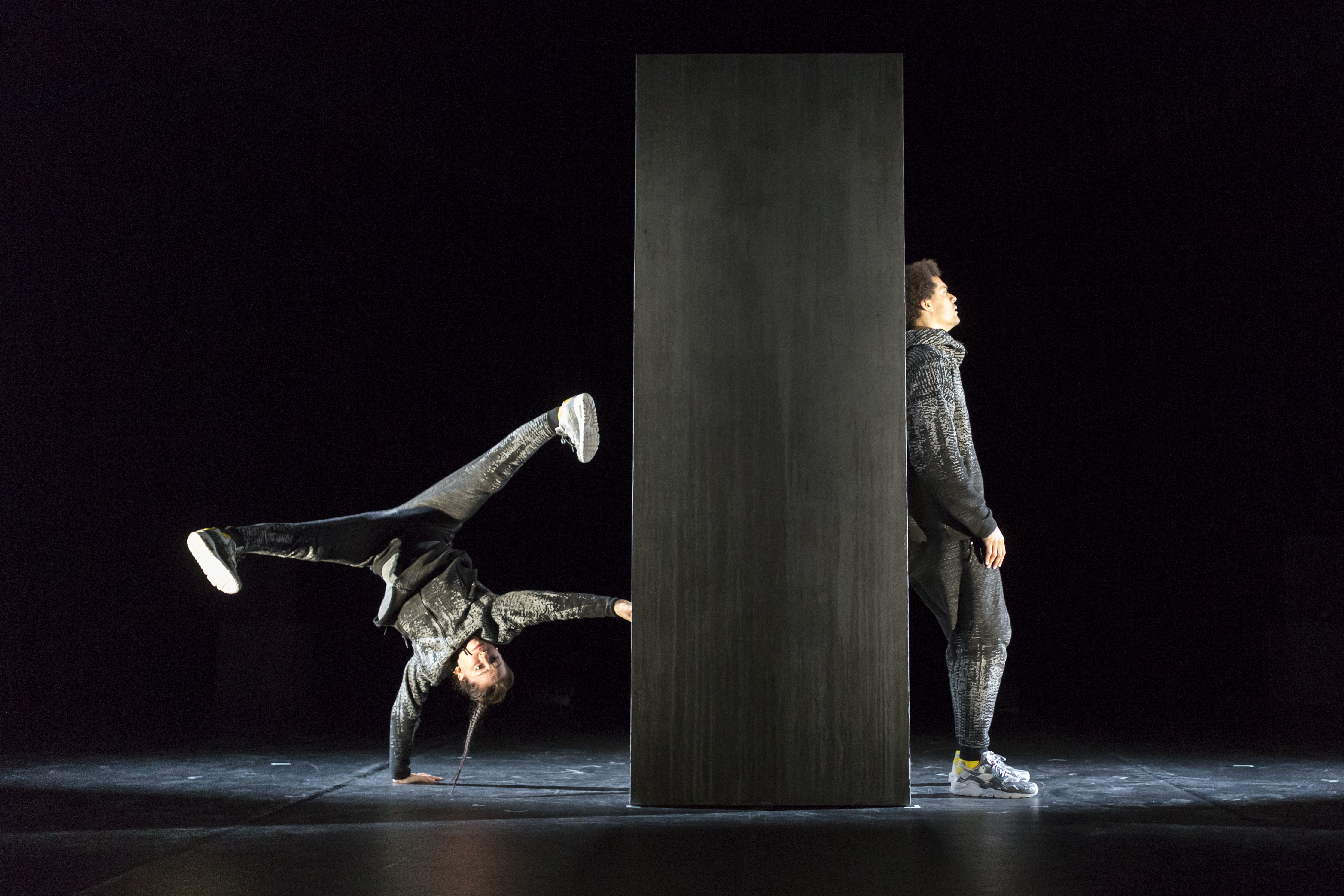 They support the show BACK TO THE WALL
This project is supported by the Hauts-de-France Region and SPEDIDAM.
 co-productions : National Choreographic Center of Créteil and Val-de-Marne / Company Käfig direction Mourad Merzouki within the framework of the Home Studio / Ministry of Culture and Communication. Artists Initiatives in Urban Dance (IADU) – Fondation de France – La Villette, Paris 2018. Festival de Danse de Cannes Côte d'Azur France – artistic direction Brigitte Lefèvre.
With the support of the theater Jean Vilar de Suresnes, the City of Saint-Quentin (02), the city of Saintes and the city of Champigny-sur-Marne.